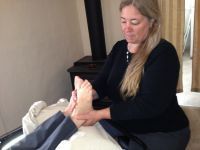 LORI LYNN SYKAS
My name is Lori Lynn Sykas and I am the owner of Arlington Healing Arts Center.
I have lived in Arlington since 1986, with my 2 children who grew up in Arlington. I have been very involved in my community through groups like Rotary and Chamber of Commerce.

I am a professional member of the American Massage Therapy Association. (AMTA)

I grew up in the Seattle area. After graduating from high school, I became a white water river guide and during my weekends I worked on many of the rivers in Washington State. It was during these weekends that many of my friends would sit in front of me around the campfire and ask me for a shoulder rub. This is where my love of massage began!

Then in 2000 after two lay-offs and three career changes, I decided to go to Ashmead School of Massage in Everett. I graduated with honors in November 2001 with professional training in massage therapy. Since then I have focused my career on clinical massage, helping people find relief from lower back pain and headaches, assisting patients with shoulder injury rehabilitation, and providing general well being therapy.
In 2007 I experienced a back injury of my own, ending my 26-year career in river rafting. So I understand the scope of pain that people experience and how important it is to provide compassion for these debilitating injuries.
Lori--Your Guide to Holistic Healing
Lori has been practicing medical massage therapy since 2001, specializing in injury rehabilitation care and medical/therapeutic massage. Arlington Healing Arts Center and Massage is a credentialed preferred medical provider with advanced training in neuromuscular therapy and other forms of m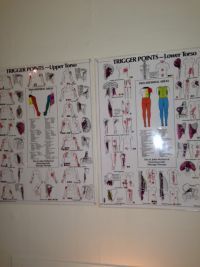 edical massage. She treats orthopedic conditions and post operative pain, work and auto injuries, as well as chronic lower back pain, neck and shoulder pain, tension and migraine head aches due to muscle tension and strain.
Lori has a dedicated passion for what she does and the patients she works with. She has helped thousands of people over the past decade. She has a gentle but highly effective approach to massage that uses compassionate and holistic techniques.
Lori is expertly trained in structural balancing and multiple forms and techniques of massage, and is referred to by many physicians. Lori has been a professional member of the AMTA (American Massage Therapy Association) since 2001.
Accepted Payments
Arlington Healing Arts Center and Massage Therapy is a preferred medical provider for health insurance, Aetna, First Choice Health Network, Premera Blue Cross medical insurance, etc., auto insurance (PIP/injury claims) Allstate, State Farm, Farmers, Pemco, etc. The Center accepts most health insurance, all auto insurance for motor vehicle collisions, and L&I worker injuries. Lori also accepts the self insured (L&I), as well as VISA/MC debit/credit cards, checks and cash.
Call Arlington Healing Arts Center for an Appointment Today at 425-783-9999
Or
Click on the Booknow! button on the Home Page to see Lori's schedule any time of day or night.